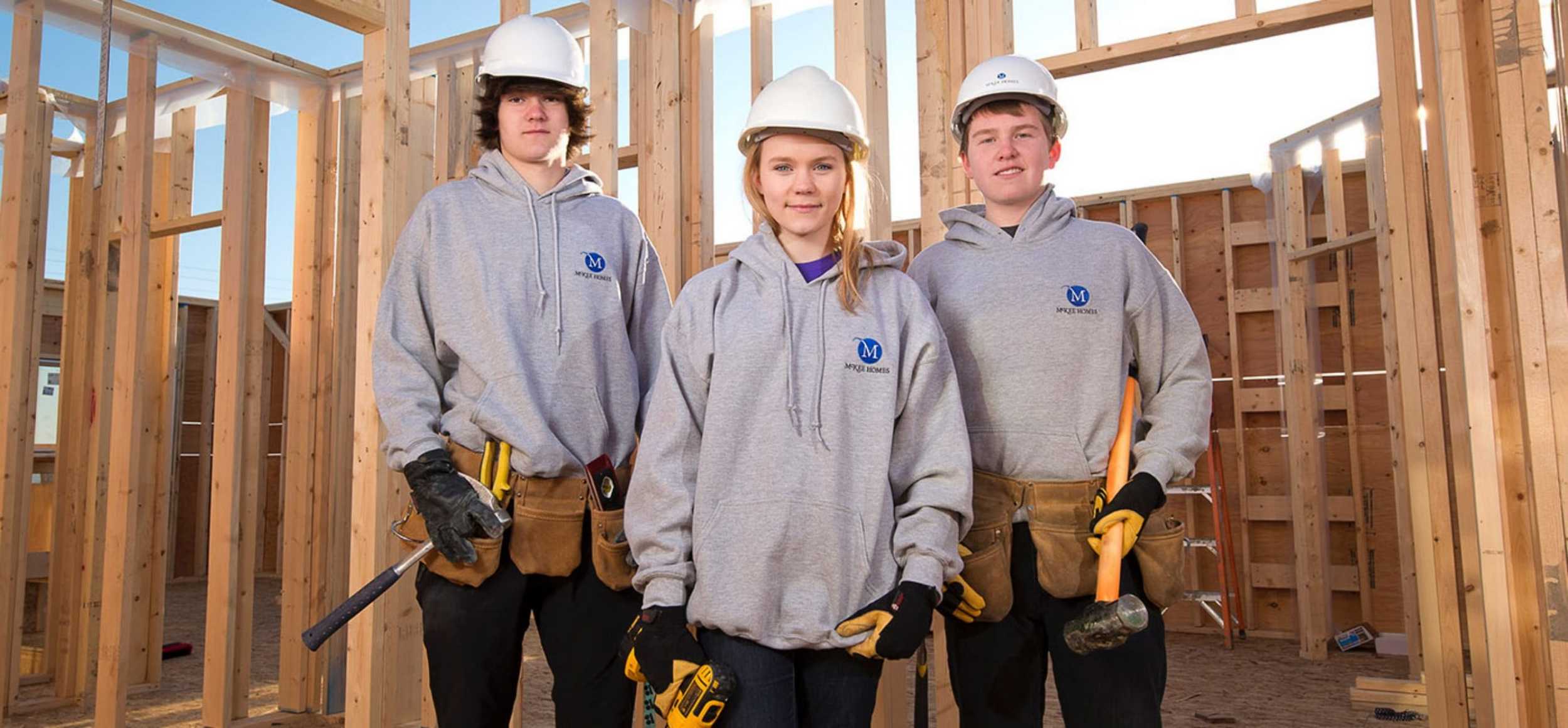 Building Futures
Build brighter futures
As a leading Airdrie home builder, McKee Homes is passionate about sharing our knowledge of and deep love for crafting homes, while helping youth discover construction and business skills, community leadership, and rewarding career opportunities. That's why we created the Building Futures program in partnership with Rocky View School Division in 2013.
Through Building Futures, our team teaches grade 10 students about the trades and home building, while they work with and learn from our expert trade partners to build a home from the ground up. The process includes everything from design, surveying, drafting, and construction to the staging, marketing, and sales of the home. During the year, our students also have the opportunity to learn from industry professionals about credit, mortgages, and lending.
"It's a once in a lifetime opportunity," said Ryan McCracken, 16. "You don't see that very often where you get to go and build two houses from the ground up, and also learn your Grade 10 curriculum."
Help us build brighter futures today.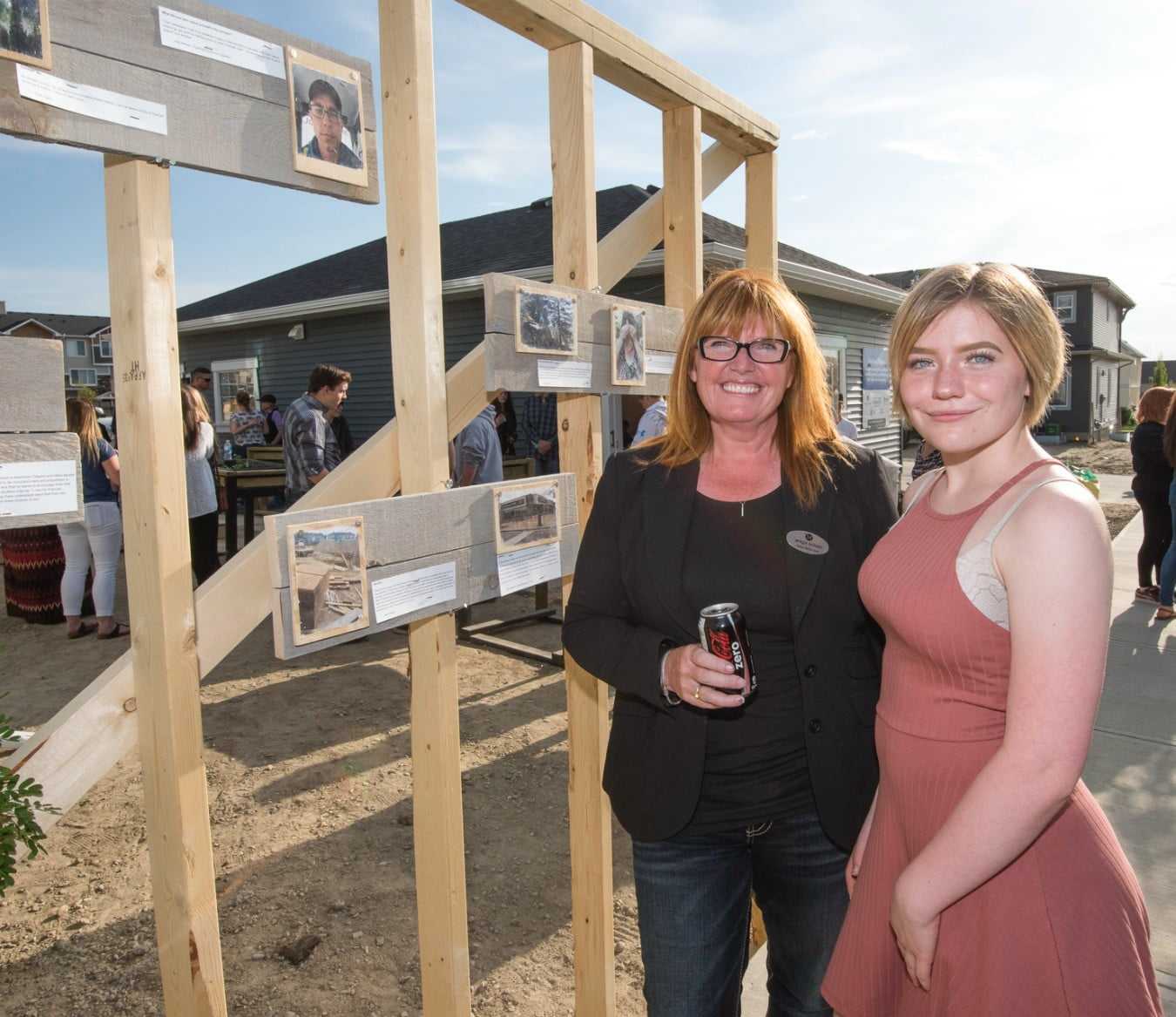 "
"
We had the pleasure of meeting Mark Penaluna when we were putting an offer on our new home! The entire process was handled very smoothly and he stood by us every step of the way. Our family is so pleased that we got to experience the purchase with someone as great as Mark in the showroom. He was incredibly knowledgeable, kind and most importantly he was very patient with us and made sure we understood everything and took the time to really make sure we have everything settled before we moved in. I recommend everyone to sit down with Mark if interested in purchasing a new home because he will truly make sure everything is fully ready and clients feel comfortable.

We love our new home and thanks to Mark for making our purchase stress free and smooth sailing!
Current class & teachers
As 2021 has drawn to a close on the eighth year of Building Futures, we celebrate teachers Coleman and Laura, and the amazing group of Airdrie Grade 10 students, and parents, who trusted in the program to deliver a great experience for them. Our students built a beautiful two storey home with garage in the Bayside community, which is very appropriately soon to be owned by a local teacher who is equally proud of the work done. The school year wrapped up with the annual Celebration of Learning with an evening guided tour to parents and guests of the program. The projects demonstrated at the event were powerful, and brilliant. Good luck to this year's program graduates, and a warm welcome to our students for the coming year in Reynolds Gate of Coopers Crossing!
Our trade partners
Building Futures is not possible without the amazing support of our team of trades who demonstrate their knowledge and pride in their professions as part of construction of a new home. From start to finish, there are so many trade and supplier professionals that we would like to recognize and thank for their support and commitment to our students during their involvement in the construction of the home. Our Construction Project Manager Sheri orchestrates the project from start to finish and her commitment to the learning experience for the students is exemplary. Throughout the process, Sheri is supported from time to time by other departments within our company who bring their experience in design, sales, safety, business and warranty to the students.
Building Futures Timeline
View our updates below and follow along with our students as they build a new home from the ground up
SURVEYING
Excavate
Foundation
FRAMING
Plumbing and HVAC

ELECTRIC
Siding
Insulate and Vapour Barrier
Drywall, Tape, Mud
Prime and Paint
Exhibition of Learning
 - June 15!
Building on a foundation of quality, honesty, and integrity, McKee Homes has become one of the most highly sought after Airdrie home builders.